Although presented in a variety of styles and materials, most restaurant chairs come as standard: four-legged, with a straight back design used to provide short-term seating for diners. . The term doesn't just refer to a specific type of restaurant chair. Rather, it is a general reference structure for several different types of chairs used for the same commercial purpose: their sole function is to provide temporary but comfortable seating for the customer.
1.  What is a restaurant chair?
Restaurant chair is a chair designed specifically for conferences, weddings, can be stacked. The chair frame is made of powder-coated iron or stainless steel. Restaurant chair with backrest cushion, upholstered with felt fabric.
Restaurant chairs are increasingly improved in design and color and material, so there are many options for customers when buying chairs. You should rely on the standards and services of your hotel and restaurant to make the most suitable product choice.
2. The history of the establishment of restaurant chairs
Restaurants are an integral part of human culture. Therefore, you will not be surprised to learn that the restaurant originated in Paris – France in the mid-18th century. The word Restaurant is of French origin. Over time the restaurant has evolved, the seating options have evolved and changed. In the early days, inns and taverns often featured four-legged stools or simple benches and tables in the restaurant booth.
When and where did the restaurant chairs form and develop?. Yes, those chairs were usually reserved for the rich. Restaurants didn't retrofit their restaurant spaces until they became commonplace in homes. A process that dates back to the Renaissance, where benches increasingly began to give way to individual chairs to sit on. The increase in general availability then led to the creation of different types of restaurant chairs commonly used in most of the dining establishments, restaurants, hotels… that we see today. .
See more: Restaurant chair supplier
3. Structure of restaurant chair
Whether you want the restaurant chairs to match or combine it to achieve a more stylish, aesthetic look. Restaurant chairs can help set the tone for your dining room, restaurant, hotel. While good food and service are also important contributors to a restaurant's atmosphere, quality and comfortable seating also make a noticeable difference.
Not only the dining table in the restaurant, but also the seats will also determine the comfort and convenience of customers while using a lot. This is quite similar to choosing to buy the size of tables and chairs that need to meet the standards of students and students.
For the size of the seats in the restaurant, you can refer to the detailed parameters below:
The height from the ground to the seat is 0.45m.
The distance from the seat surface to the dining table is 0.3m.
The width of the seat is about 0.35m to 0.4m.
With a universal chair, the height from the ground to the end of the backrest is about 0.8m to 0.85m
In addition, restaurants should choose dining chairs with backrests that recline at an angle of 10-15 degrees so that customers can sit more comfortably. The backrest of the seat should not be used too high, just choose to use the average height of the customer's shoulder for convenience while serving. In addition, the parameters of the dining table and chairs given above are also applicable to the standard way of calculating the area of a banquet table that many restaurants are looking for today.
Restaurant chairs are also classified according to the main material that makes up the chair
Restaurant chair made from plastic
Most of these chairs are made from one-piece molding. There are many different colors to choose from to match the interior space of restaurants and hotels. One thing that is undeniable is the ability to stack, cheap cost and quite low weight convenient for moving. This makes these types of chairs are being chosen by many restaurants.
Metal restaurant chair
One of the biggest advantages that metal restaurant chairs offer to restaurants is their sturdy and long-lasting construction. Available in different shapes and sizes. The metal frame can be sandblasted and painted in any color of your choice and it won't chip. Metal is also a fireproof material option. For added durability and resistance, metal restaurant chairs are often covered with a protective layer.
Restaurant chair made of wood
Wooden restaurant chairs offer a warm, rustic look that makes them a popular choice for fine dining establishments as well as retro-modern-themed venues. They have a great wooden construction that doesn't get hot or cold. Wood is a very durable material and can serve for a long time if cared for well. Furthermore, wooden restaurant chairs can be painted in multiple colors to complete your restaurant interior.
How to choose the right restaurant chair?
The choice of furniture for a food service business depends not only on the type of restaurant but also on the size and menu of the restaurant. While quick-service restaurants will have a simple and sturdy design, white tablecloth restaurants are more likely to provide more comfortable seating for longer-stay guests.
The number of seats required depends on space, layout, expected volume, and elbow clearance. Typical furniture packages include chairs and tables. Typical board sizes are 32 inches by 48 inches, 32 inches square, or 24 inches by 32 inches.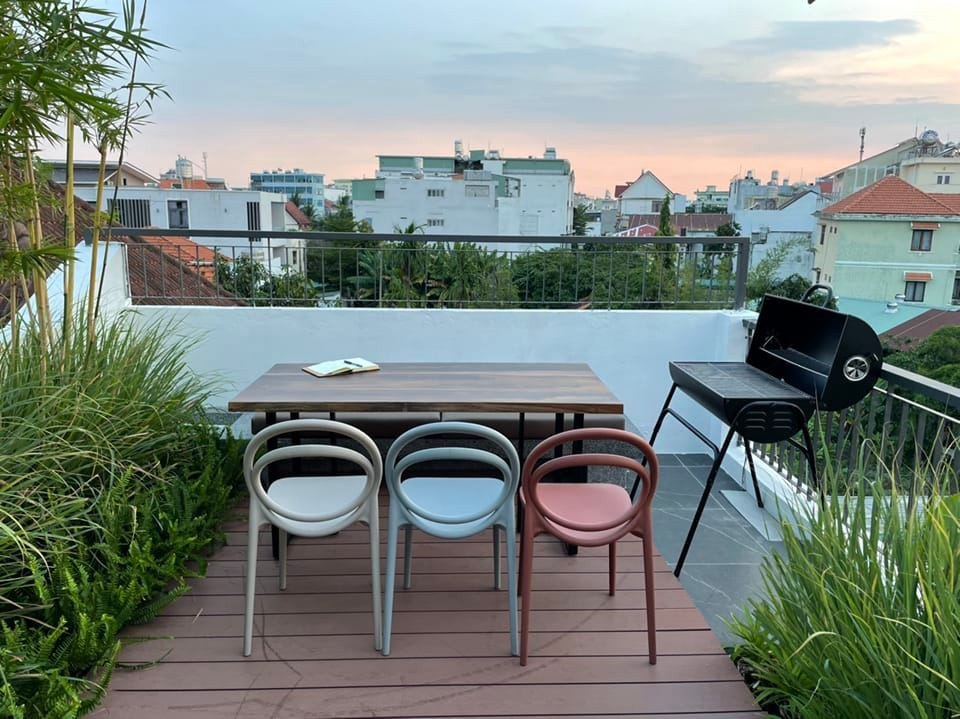 Seat height and width are standard and average 16 inches tall and 35 inches wide, although medium and larger sizes have become more popular to serve larger customers. Restaurants may have a combination of armchairs and side chairs or just armchairs.
Under the Americans with Disabilities Act (ADA), aisles between fixed seats must be at least 36 inches wide and restaurants must provide wheelchair-accessible seating in dining rooms with table tops and counters. 28 to 34 inches tall.
Choosing the right chair for the restaurant design style
As you know, nowadays there are many different styles of restaurant design. There are popular styles, there are modern styles, there are neoclassical or Mediterranean styles… Each design style is a separate layout space. They also require choosing the right furniture.
An easy example is that you cannot arrange the rustic bamboo furniture in a luxurious modern 5-star restaurant. If you do so, you are destroying the image you have worked hard to build and pursue. However, the same set of tables and chairs, if placed in a rustic Vietnamese country-style restaurant, they will shine again.
This is also the reason that when designing a restaurant, the design unit will provide you with a 3D perspective drawing so you can imagine what the finished project will look like. Which chair model to use, what color, how much size… all are detailed for you.
Handicrafts, bamboo and rattan are always suitable choices. Low cost, high aesthetic and light weight, easy to decorate and extremely safe.
Choosing the right chair for the type of restaurant
The type of restaurant is also one of the things you need to keep in mind to choose the appropriate interior. A restaurant specializing in Japanese dishes will be different from a Korean or Chinese restaurant. Or a vegan restaurant will have a completely different layout and arrangement of tables and chairs than a regular savory restaurant. Restaurants that serve European dishes have their own standards for using their own interiors. Asian restaurants have their own standards.
In addition, restaurant interior trends are always updated and changed every year. So the way to choose the right chair for the restaurant is to consult the design unit. The restaurant designer will always be ahead of the trend, know what is the "hot trend", and hit the right diners' psychology. Do not hesitate to exchange to receive what you like best.
Restaurant chair supplier in 2023
Harmoor Co., Ltd., established in 1998. We opened a factory in Vietnam and became one of the largest plastic table and chair manufacturers in Vietnam. With many years of experience in plastic molding and metalworking has achieved an outstanding technical level that stands out in the quality of our products.
In addition to providing restaurant chairs, we also provide other products such as:
Bar stool
Restaurant chair
Garden chair
Hotel chair
Hospital chair
School chair
Plastic chair
Milk tea shop chair
Nail salon chair
Spa chair
Hair salon chair
Meeting-hall chair
Living room chair
Coffee table
Bar table
Restaurant table
Dinner table
HARMOOR VIETNAM CO., LTD
TOP SUPPLY AND MANUFACTURER OF TABLE FURNITURE IN VIETNAM